WD-40 Company: Resilience
Can resilience be developed?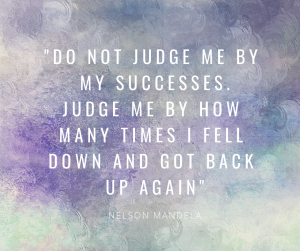 Nelson Mandela once said: "Do not judge me by my successes, judge me by how many times I fell down and got back up again."
Mandela is a personal role model.  His words and actions inspire me.  Yet, I must admit to being challenged from time to time to sustain the inspiration when circumstances result in a particularly challenging moment. Often, I find myself editing the soundtrack playing in my mind ("woe is me") and asking myself "who do I want to be in this moment?"
As a lifelong learner, I wondered are some of us born with a higher likelihood of being resilient?  Or, is it a competence we can develop?  As it turns out, the answer is yes to both.
Our natural inclination may be to view the world through a lens of "the glass is half-empty" / "half-full". However, we can strengthen our ability to re-frame challenges in a context that inspires us rather than defeats us.
We all have that voice in the back of our mind telling us we are "not good enough (or smart enough, or attractive enough, or fill in the blank ….. enough)". Yet resilience requires us to invite that inner voice to become our advocate rather than our critic.
A day of resilience
At the WD-40 Company, many of our tribe members invested a day of learning surrounding resilience. Initial hesitation to take the time away from the office because of workload, have been transformed into a lasting glow.  We now have apostles eager to share insights and inspire other tribe members to even higher levels of accomplishment.
During our day-long workshop, in the morning of interactive sharing and learning, we quickly realized that we each have a baseline level of resilience.  Yet, with a bit of mindfulness and positive intention, we can strengthen that resilience.  This doesn't require a dark room, a mat, or soothing music.  In any moment, we can choose to show up as our best self despite the challenge of the moment.
Attending the course with other tribe members reminded us that we are not alone.  We have fellow tribe members who are available to support us in our efforts, personal and professional.  In the second half of the day, we focused our attention on delivering random acts of kindness/service in our community.
As it turns out, giving can be better than receiving and can magnify our personal resilience.
Reflection
The WD-40 Company is one tribe in one company in this one world of ours.  We are values-driven and these values give us the opportunity to accomplish great things every single day.  As tribe members, we are driven to succeed as a tribe while excelling as individuals.  This can sometimes cause us to fixate on the challenges associated with doing the right thing while delivering positive lasting memories in all we do.  Sometimes, this is harder than it may seem.  Through strengthening our personal and collective resilience, we have learned that we can better sustain the value of the WD-40 Company economy.
Written by Jeff
kimmie-burnettwd40-co-uk